Elontec is the proud sponsor of this year's Elontec School Diaper Challenge. The Annual School Diaper Challenge is a spirited occassion when schools across the Valley to compete and win cash prizes, an ice cream social or a visit from the Phoenix Suns Gorilla! The annual School Diaper Challenge takes place from Dec. 1 to Feb. 15, 2014!
We are excited to introduce you to the Diaper Bank of Central Arizona, now proudly serving non-profit agencies helping families in Central Arizona. We provide diapers as a bridge of relief for families between what they can afford and what government assistance covers. There is no assistance for families needing diapers - including Food Stamps or WIC programs. Each day families struggle to keep their babies bottoms covered. You can help. Please consider hosting a diaper shower for us, a diaper drive to collect diapers or joining our "Dollars for Diapers" campaign with a donation. We'll use those funds to purchase the diapers for you.
With Gratitude,
Ginger Clayton Founder
Changing Diapers,
Changing Lives
Serving Valley of the Sun non-profit agencies
Welcome to the Diaper Bank of Central Arizona
The Annual Baby Diaper Drive is now the Diaper Bank of Central Arizona! After more than 14 years of serving families and children of Homeward Bound as the Annual Baby Diaper Drive, the Diaper Bank of Central Arizona took root and was born in September 2013, expanding its reach and aim to help more Valley of Sun families and children facing poverty and need. With the support of Baby Diaper Drive members and the Homeward Bound team, we are proud to launch the Diaper Bank of Central Arizona! Our mission is to help non-profit agencies meet the urgent demand for diapers in our community. And, we strive to provide enough diapers to all children living in Maricopa County and surrounding areas so no baby bottoms will ever go uncovered again. Help us in our campaign of "Changing Diapers, Changing Lives" by hosting a diaper drive, volunteer at our organization, become a sponsor, or make a donation to our "Dollar for Diapers" campaign!
The Baby Diaper Drive Gives Birth to the Diaper Bank of Central Arizona
5402 W. Roosevelt St., Suite 106 Phoenix, AZ 85043
602.759.5499
info@diaperbankaz.org
In Maricopa County, many families face challenges getting adequate supplies of diapers or incontinence supplies. Lack of access to these supplies creates a myriad of health and emotional issues, including shame, isolation and increased risk of infection. Please join us in raising diaper need awareness by hosting a diaper drive or contributing to our "Dollars for Diapers" campaign.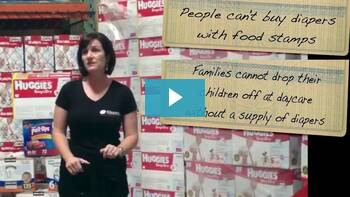 Many Thanks to our Sponsors
The Diaper Bank of Central Arizona is pleased to announce our 2014 Corporate Sponsor is Bank of Arizona. Their generous donation and sponsorship is instrumental in allowing us to establish the first Diaper Bank in Central AZ and will allow us to buy approximately 67,000 diapers. Thank you so much for your support!